The doctor profession is one of the noblest professions in the world. This career has numerous specialties, brain surgeon, physical therapist, psychiatrist, physician, etc. Getting a job in any of these positions qualifies you as a doctor. The doctor career requires hard work and smartness. To become a doctor, you must be smart. In Bitlife, you might want to join the doctor career for gameplay reasons or the money. It is one of the high-paying jobs in Bitlife. To join this career, you must complete medical school. This article will guide you on all you need to know about medical school and how to enroll in this school.
High Smarts
To become a doctor, you should have smarts of at least 80%. You may boost your smarts by going to the public library and reading books. Visiting the library only gives a little boost to smarts. You can read varieties of books to improve your smarts. Some will reduce your smarts, while some will increase them. Children's picture books have the least number of pages while the dictionary has the most number of pages. To read a book, you have to tap on the page displayed on the screen. It is advisable to improve your smarts stat at a young age because it might get tasking trying to find a children's picture book at an older age.
Applying To The University
After graduating high school, you must apply to university before medical school. The majors accepted in medical school are; Psychology, biology, physics, nursing, and chemistry. These majors will qualify you for medical school. If you don't find any of these in the list, you may close the game and reopen it to refresh the list or age up and apply again. After selecting your major, choose how you will pay for medical school. When you have selected your method of payment, you will get enrolled in the university. As a university student, you can take part-time jobs, join an extracurricular activity, or join a sorority or fraternity.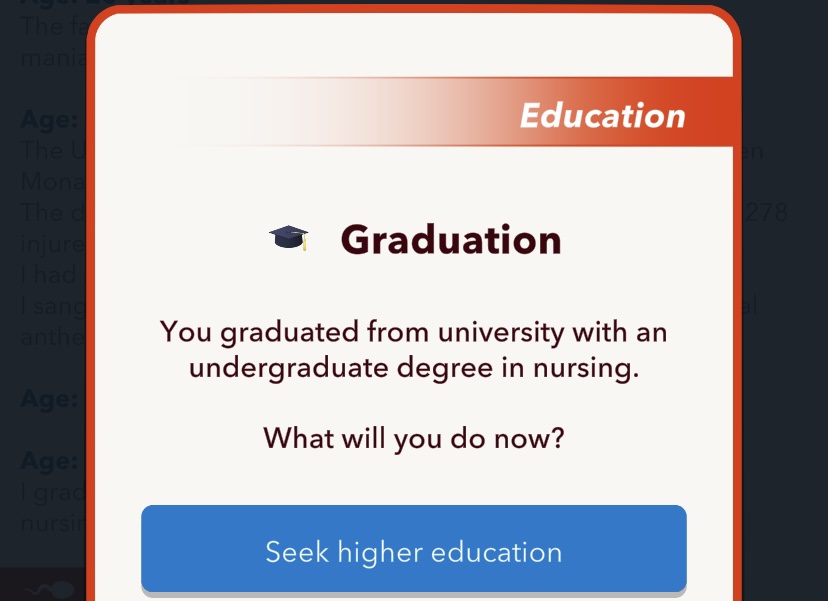 Getting Into Medical School
Medical school is expensive. You should have a backup plan if you don't get a scholarship and your parents refuse to pay your tuition. From the age of 15, you can access the part-time jobs menu. However, you can only apply for minor jobs, and the pay is low. At the age of 18, you have access to varieties of part-time work. Some of them have requirements before you can apply, like the position of a mover – you must have a car to get this job. You can take as many part-time jobs as your schedule permits. With part-time jobs, you can save money to pay for medical school.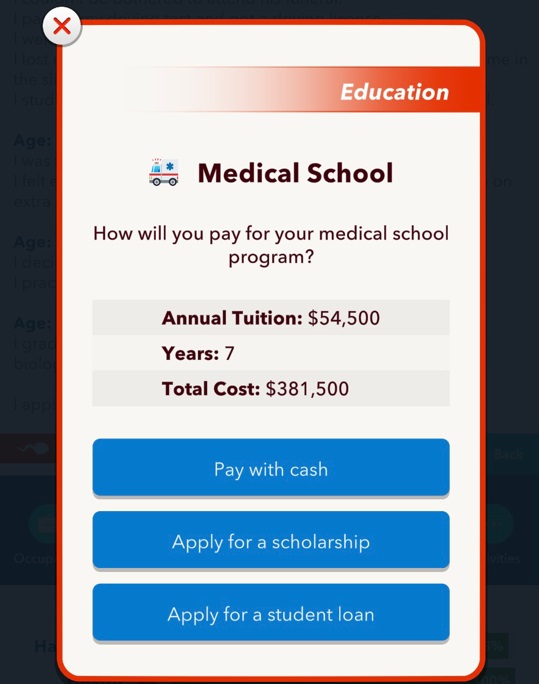 After graduating from university with a degree in biology, chemistry, nursing, physics, or psychology, you can get a job or seek higher education. You have to apply to medical school. If you have high smarts, you will get accepted into medical school. This school takes seven years to complete. When you graduate from medical school, you can apply for a position in the medical field, such as; Physical therapist, brain surgeon, psychiatrist, family physician, etc. After getting the job, you unlock the doctor achievement, and after working for 20 years in a position, you will collect the career.
To become a doctor, you must complete medical school. To qualify for medical school, you need to have a degree in physics, nursing, biology, chemistry, or psychology and high smarts.