Bitlife – life simulator is a game that allows you to live a life designed by you. You can choose to drop out of high school and live a crime-filled life or complete high school and further your education. In Bitlife, there are different schools in the education tab. If you have low smarts and can't get into the university, you may apply to a community college. You can also apply to graduate school, business school, law school, dental school, medical school, nursing school, pharmacy school, and veterinary school after university. If you consider becoming a dentist, you have to attend dental school to become one. If you want to go to dental school but don't know how to, this article will guide you on the steps it takes to get accepted into this school.
Having High Smarts
When starting a new life, you can customize your character's smarts with god mode. If your character is born with low smarts, you can increase this stat by;
Going to the library – From the age of eight, you can start going to the library. This option gives only a slight boost to smarts.
Reading a book – This is the fastest way to get smarts up in Bitlife. There are numerous books to read, and some of these books increase or decrease smarts. Children's picture books contain the least amount of pages. It is advisable to read these books at a young age because finding children's books at a later age might take time.
Applying To The University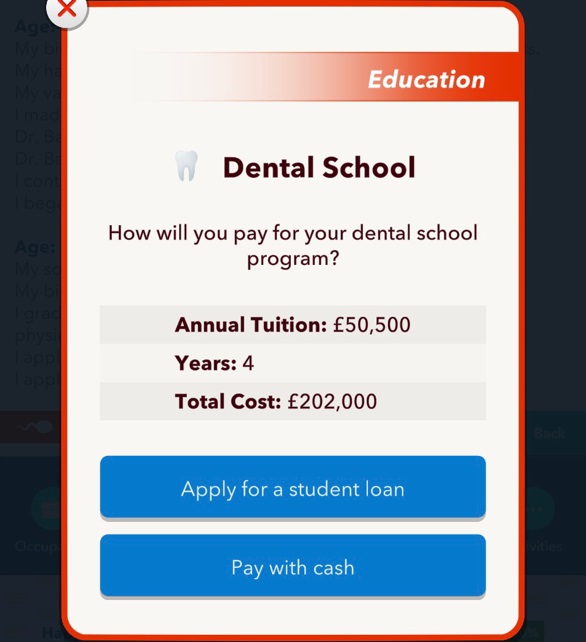 After graduating from secondary school, you need to apply to university. To qualify for dental school, you must have a degree in chemistry, nursing, physics, or biology. If you don't find these majors on the list, you may reset the game by closing and reopening it or switching to a previously saved life and then switching back. Any of these methods will refresh the list of majors. You can repeat this method till you find these courses. Once you enroll at the university, you may rush into a fraternity or sorority or join an extracurricular activity. Doing this may help you get a scholarship for dental school. Also, study harder to improve your grades.
Applying To Dental School
After completing a degree in physics, nursing, biology, or chemistry, You can apply to dental school. If you are smart enough, you will get accepted into the school. You can apply for a scholarship, ask your parents to pay your tuition, apply for a student loan or pay with cash. If you get a scholarship, you may proceed to dental school. If your parents refuse to pay your tuition, you may have to apply for a student loan. When you enroll in this school, you can take part-time jobs to help pay your loan.
Dental school takes four years to complete. After graduating from dental school, you may apply for the job of a dentist. You cannot become a dentist without going to dental school. It is a prerequisite for becoming a dentist. When you get the job of a dentist, you will unlock the dentist achievement, and after working for 20 years, you will collect the career.
Going to dental school is not as difficult as it sounds. To qualify for dental school, you must have high smarts and study nursing, biology, physics, or chemistry at the university. These are the requirements for dental school.