In Bitlife, you can purchase cars, jewellery, instruments, properties, aeroplanes, speciality aircraft, boats and more. There are numerous types of watercraft, such as luxury yachts, sailing clutter, paddle boat, jet ski, submarine, sailing catamarans, research vessels, pirate ships, etc.

The price ranges from $100-$2b. The most expensive watercraft is a submarine. This type is rare and costs a fortune to purchase. To afford it, you must get a high-paying job such as a musician, actor, or become royalty. Because it is rare to find, you must have enough money in your bank balance to purchase it once it appears on the list. This guide will walk you through how to accumulate enough money to get a submarine in Bitlife.
Getting A High-Paying Job

It is tough to amass $1b on your first generation in Bitlife unless you have a well-paying job. You can get a used submarine for as low as $500m. However, you need at least $2b because you cannot predict the price of the one you will find. The jobs that can help you achieve $1b in a generation are:
Actor: it is the highest paying job in Bitlife. As a tv star, you can earn as much as $100m every year. Choose acting as your talent, and take lessons thrice a year. Once you graduate high school, hire a talent agent to help you secure roles. You can start acting as an extra and move on to tv shows/movies. Build your reputation by rehearsing and following your producer's instructions. Once you are famous with a high reputation, audition for soap operas and ask your agent to negotiate for more money.
Musician: you can become a pop star, rapper, rock star, etc. Select music as your talent and take lessons till you graduate high school. Keep producing a single/album every year to earn money. Aim for double platinum and diamond records because they have a high profit. Also, perform live concerts and go on tours. As a musician, you can keep performing and earning royalties till you die.
Pro Athlete: to become an athlete, choose sports as your talent or improve your athleticism. Once you start high school/university, join a sports team and practice harder every year. Once you graduate, you may get drafted to go pro. Work hard on your skills to improve your greatness and income.
Royalty: if you want to acquire more than $1b without doing much work, be born into royalty. Monaco is one of the best countries to live in in Bitlife. There are only three ranks in this country such as marquess/marchioness, count/countess, and prince/princess. Once you are 18, kill your parents to inherit their money. With this method, you can become a billionaire before age 30.
Purchasing A Submarine
Once you have at least $2b in total, go shopping for boats. You can find it in the speciality vehicle dealers category.
You need a boating license to purchase any watercraft. You may take the test in the license menu or when you want to purchase a boat. Once you pass the test, you can buy a watercraft.
If a submarine is not on the list, close the game and reopen it or keep ageing to refresh this category. It may take time to find it because it is rare.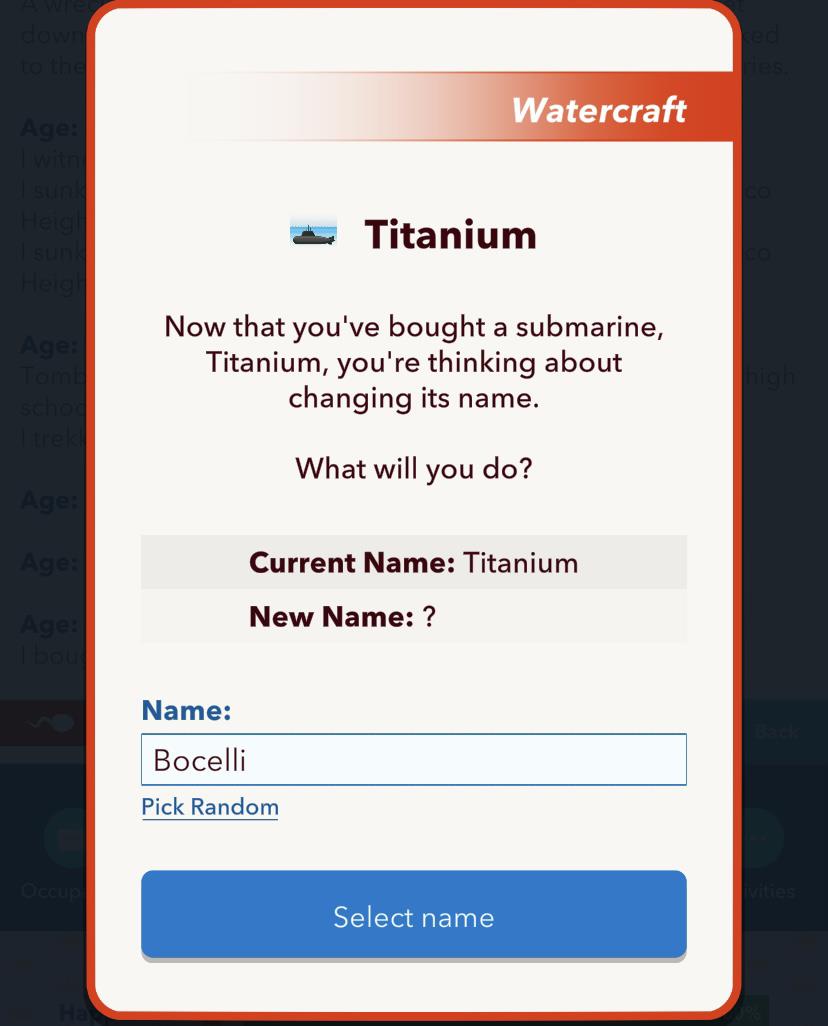 Once it appears on the list, select and purchase it. You can change its name if you want.