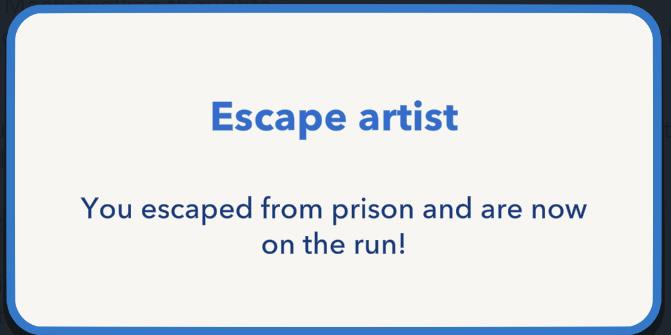 When you commit a crime in Bitlife, you can get sent to prison if you are found guilty. Prison in Bitlife is not fun. The activities you can perform in this place are limited. To survive in prison, you must maintain your happiness and health stats. Having high behavior stat may help you get out before your sentence ends. This stat also determines if the guards will take you to the infirmary when you want to go there. You can also get a job in this place. However, the pay is low. There are two ways to lawfully get out of prison before the end of your sentence:
Appeal your sentence; To do this, you must have enough money to hire a law firm. The fee you will pay for a law firm depends on your crime and punishment. You can only appeal once during your prison term.
Get out on parole; After serving some time in prison, if your behavior stat is high, you may get a parole hearing where you have to choose the correct option. If you select the wrong one, you won't get paroled. You will get released from prison if you give the correct answer to the question.
You can also escape from prison before your term ends. There are also two methods of executing this:
Riot; When you select this option, you will have to play a mini-game where you must gather prisoners and avoid guards. You will start with ten prisoners and may go as far as 25 prisoners. Riot in Bitlife is dangerous as people may die or get injured. If unsuccessful, you will get an additional sentence.
Escape; Likewise the riot option, you can attempt to escape by playing a minigame. This option is better than rioting. To win, outsmart the guard and get to the exit. The complexity of this game depends on the security of the prison. Depending on your crime, you can get sent to a minimum, medium, or maximum security facility. It is difficult to escape from a maximum prison. Therefore, if you can, avoid getting sent to this prison. However, if you find yourself in a maximum-security prison, this article will guide you on how to escape.
How To Get Into Prison
After committing a crime in Bitlife, you may get away with it or get arrested by the police. If you go to court and are found guilty of the crime, you will get sent to prison. You can get apprehended in Bitlife for numerous reasons, such as killing someone, stealing cars, assaulting someone, racketeering, etc. Each crime has different penalties. If your offense is not severe, you can go to a minimum or medium-security prison and spend 1-20 years. However, if you commit a crime like murder, you might get a life sentence, death sentence, or 50+ years in jail. When you leave prison, you are limited to many activities. Some jobs will reject you because of your criminal record. Therefore, you will have to get menial and low-paying jobs. Also, you can't adopt because of your criminal record. However, when you emigrate to another country, you can live a regular life.
You can also emigrate illegally. If successful, your partner will leave you. You will also leave your children behind, but you can travel to visit them. You can get proper jobs in a new country, but the police can arrest you for illegal immigration. However, the sentence for this crime is significantly less. If you complete your term, you will get deported back to your original country.
Houdini Ribbon

When your character dies in Bitlife, you will get a ribbon. This ribbon indicates how you lived your life. There are various ribbons to collect in Bitlife, with different requirements. As the name implies, to get the Houdini ribbon, you must escape from jail several times in one life. This ribbon is similar to the jailbird ribbon. To avoid getting the jailbird ribbon, do not spend too much time in prison. When you get into jail, try to escape in that same year. Also, commit varieties of crimes and not just the same one. It is advisable to engage in petty crimes to avoid getting sent to a maximum prison.
Jailbird Ribbon
For this ribbon, your character must spend many years in jail.
Commit a crime and escape from prison: you can engage in a petty crime to get sentenced to a minimum or medium-security prison. These prison types are easier to flee from as they have fewer obstacles.
Spend the rest of your life behind bars: after you escape, commit a serious crime, such as murder. The goal is to get a life sentence. You can also engage in a minor offense, go to prison and have your term extended. You can do this by getting caught while escaping or rioting. Dying from a disease in jail will help you get this ribbon faster.
When you are behind bars, you can perform some activities to maintain your happiness and health;
Cry: crying in prison will increase your happiness and health stats. However, if caught, the prisoners may ridicule you. If you are in a prison gang, they will kick you out.
Infirmary: when you get a disease in prison, you can go to the infirmary and get evaluated. Unlike when you go to the doctor, where you can select the illness you want to treat, the infirmary will choose a random one to treat. The guards may not take you to the infirmary if your behavior is low.
Letter: you can send a letter to your partner and relatives. They may reply to or send you a package if you have a good relationship with them. This option will give a boost to the happiness stat.
Mind and body: in this menu, you can work out in the yard, visit the prison library, and meditate in your cell. These options will increase both health and happiness stats.
All Jail Layouts
When you select the escape option, you will get a pop-up of a mini-game. If the game is too complex for you, you can go back to your cell. However, if you choose to play the game and get caught by the guard, he might beat you up, and your sentence will get extended. You can only find an escape route once a year. Thus, if you change your mind or get caught, you have to age up to get another chance at escaping.
Note: The guard moves twice for every move
you make! He will only make moves
towards you and will try to walk
horizontally first.
You will get a box with small squares in it. The number of squares depends on the security of the prison.
Exit: you will find an exit somewhere outside the box. The goal is to reach there without the guard catching up to you.
Starting point: your character's face is highlighted in green in a random box.
Guard: there is a guard that you have to bypass to get to the exit. This guard will move twice when you move.
Walls: there are thick horizontal and vertical lines in the box. These lines indicate corridors or walls. To successfully escape, try to trap the guard inside a wall.
Red buttons: four arrows are below the screen to navigate your way to the exit.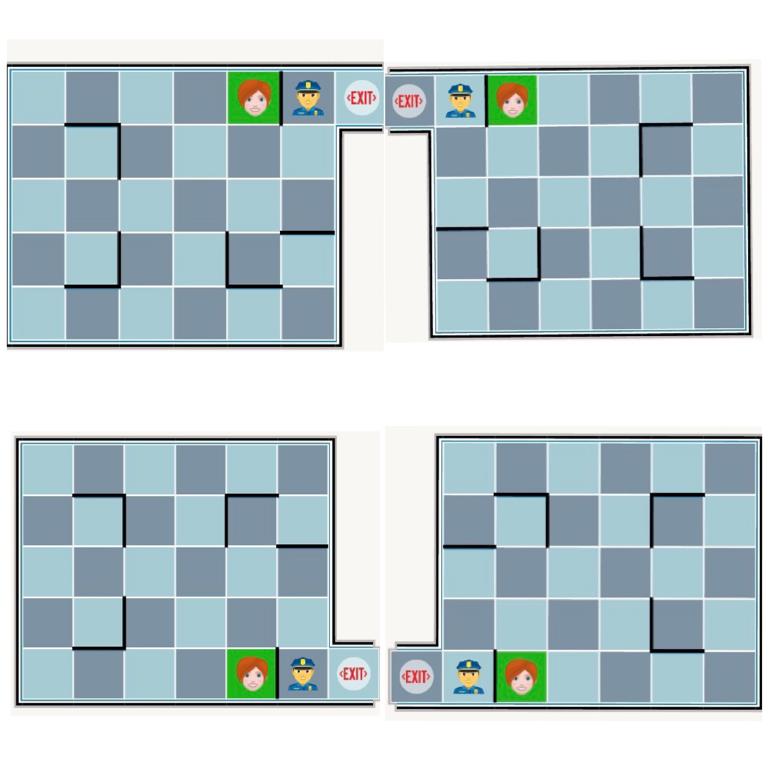 In prison, you can get the same jail layout at different times without realizing it. The maps are mirrors of each other. The game may mirror and rotate the maps to make them look different. All you have to do is figure out if the map is rotated and then try to escape in the opposite direction.
Minimum And Medium Security
These prison types have fewer walls and boxes. It is simpler to escape from a minimum prison. To get sent to this prison, you must commit a minor crime, such as bank robbery, burglary, grand theft auto, stealing from the mall, drug trafficking, conspiracy to murder, etc. The layouts of this prison are usually 3×4, 3×5, and 4×4.
Medium security prisons are more common when you get charged with two crimes. The layout is 5×4, 5×5, 6×6, 7×4, 7×5, etc.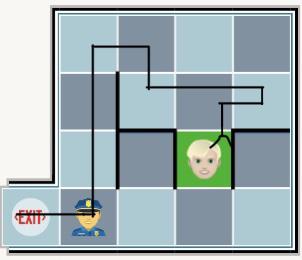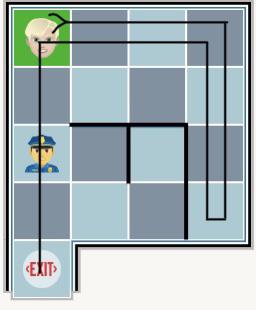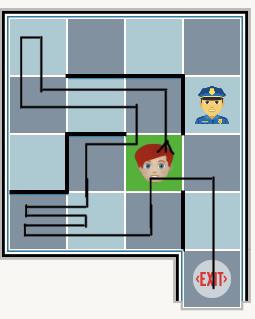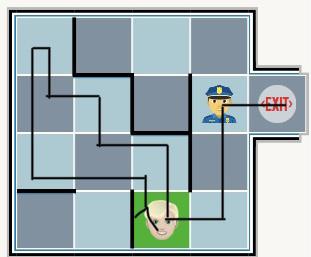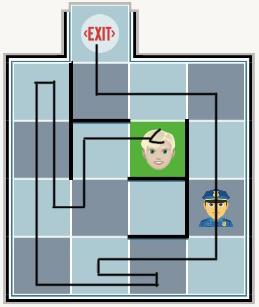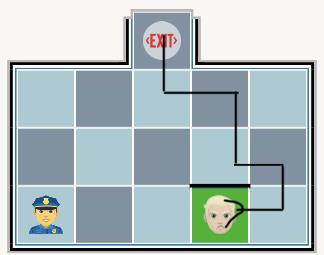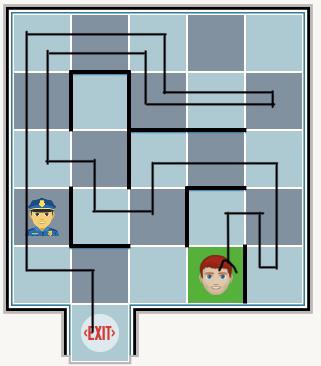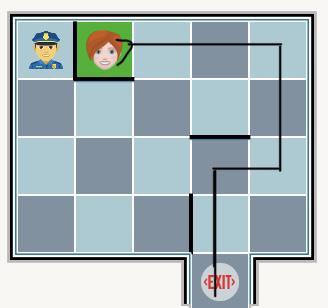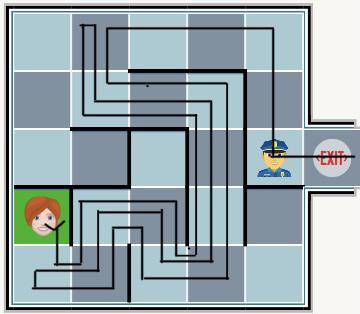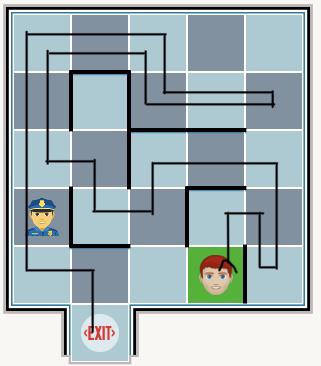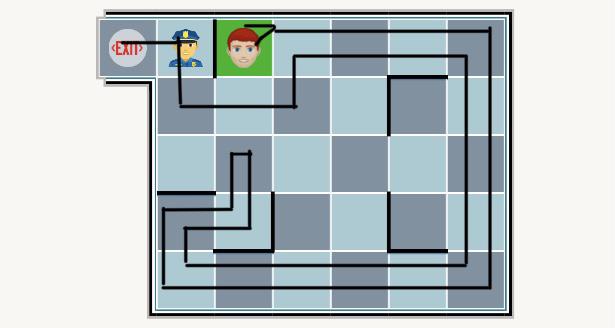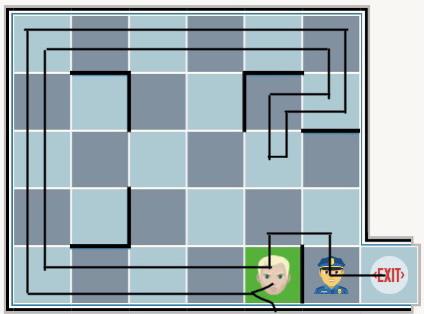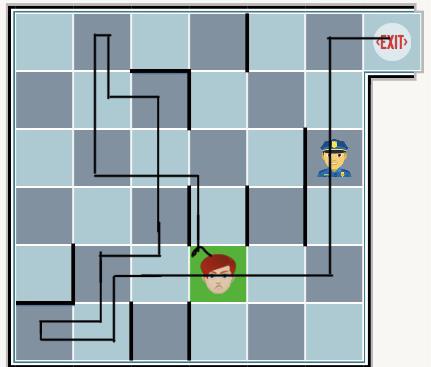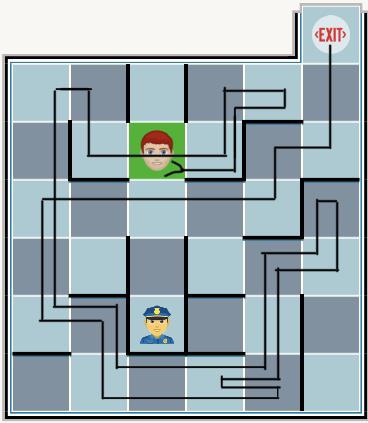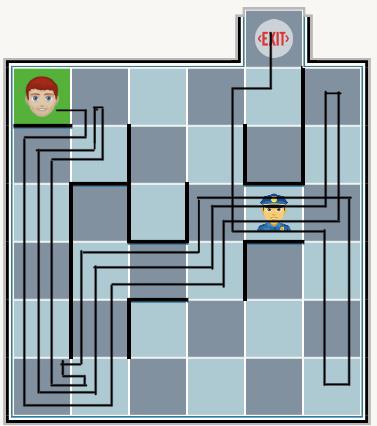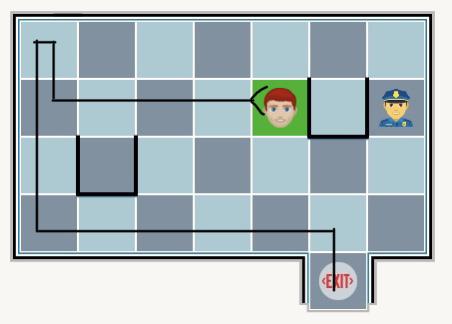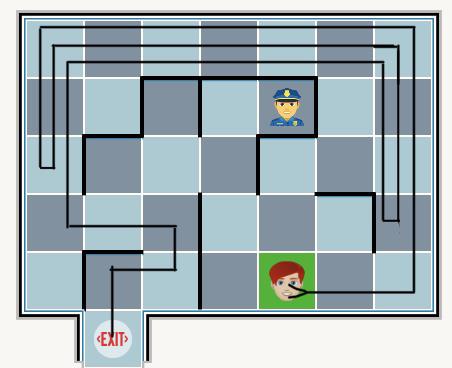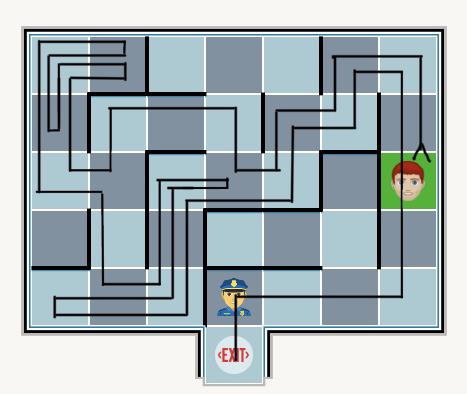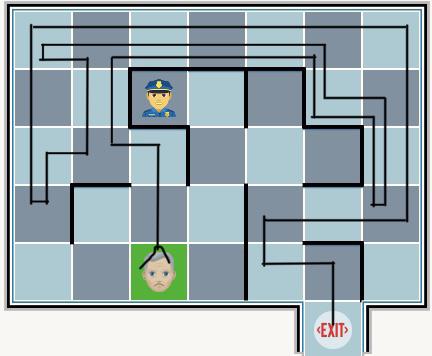 Maximum Security
This prison is more complicated with more boxes and walls. You must commit a serious crime to get sent to this type of jail. If you escape jail and get caught, you can go to a maximum prison. The layouts are 7×8 and 8×8.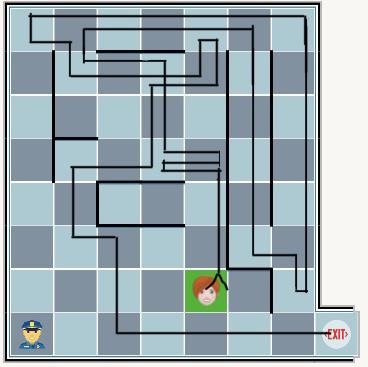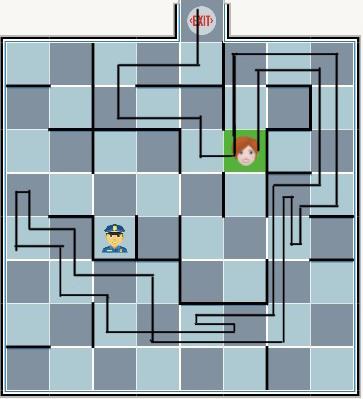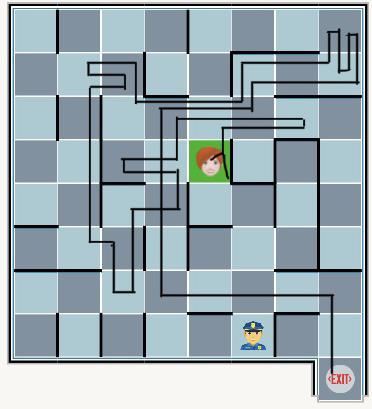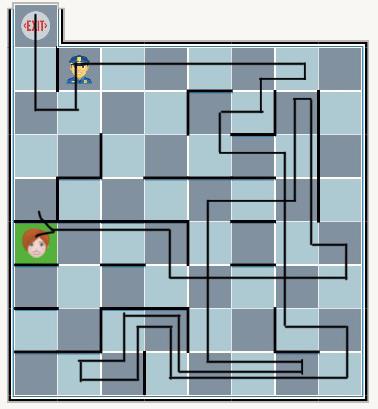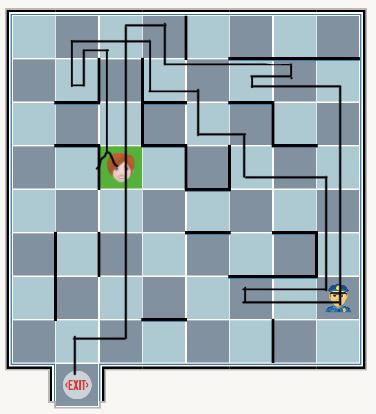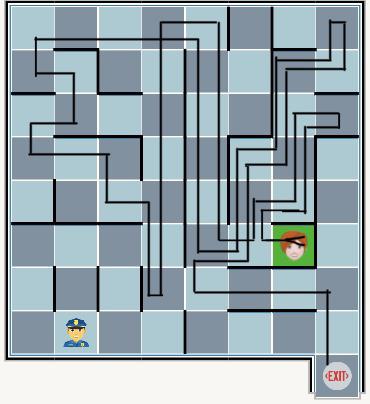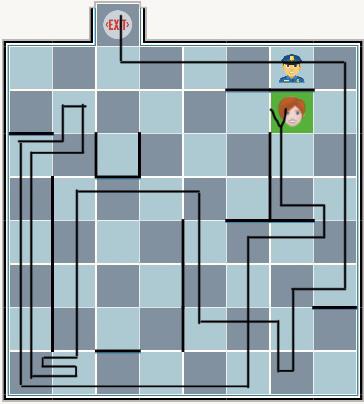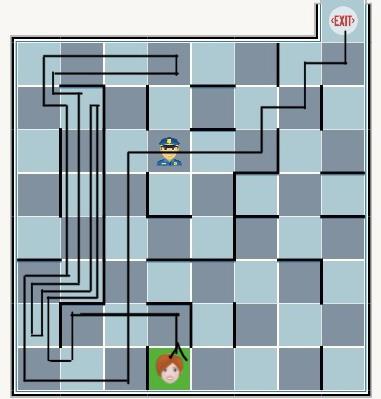 If you commit a crime as a child, you can get sent to a juvenile detention center and transferred to a medium-security prison when you are 18 years depending on the length of your sentence. Some of the juvie escape layouts are the same as minimum security prisons. The police can falsely accuse you of a crime and send you to jail. When you get out, you can sue the police.