In Bitlife – life simulator, after graduating high school, it is time to start your life. You can get a higher education, get a full-time job, get part-time jobs, enlist in the military or join a special career. In this special career section, you need to purchase the job packs to access them. There are currently six job packs you can collect, mafia, musician, pro athlete, politician, actor, and the street hustler update. The movie star job pack was released recently. This career gives you a chance to explore life as a famous actor. This article is a guide on how to become an actor in Bitlife.
Creating Your Character
When you purchase the job packs in Bitlife, you can view the talent menu when creating your character. To become a movie star, select acting as your talent. It will help you gain acting skills faster.

Taking Acting Lessons
Once you have started a new life, you can start taking acting lessons from age eight. If your parents refuse you to take acting lessons, age up and ask them again. Taking acting lessons before the age of eighteen is free of charge. You have to build up your acting skills while you are still young.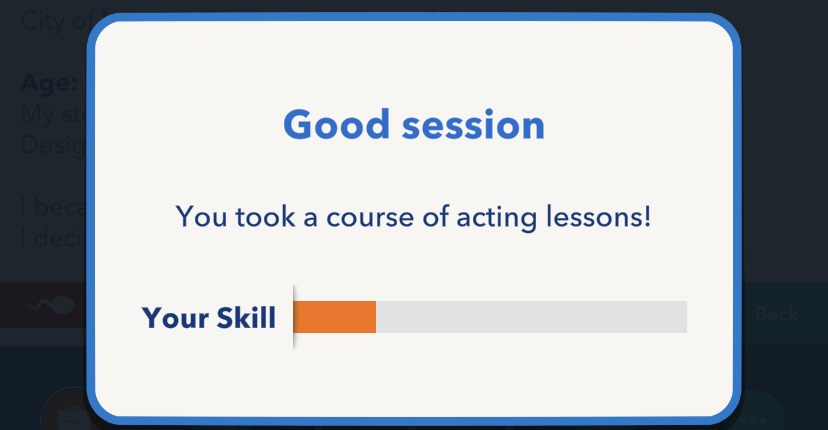 Having Good Stats
To improve your chances of becoming a movie star, you need to have good stats. The looks, smarts, health, and happiness bars should be green. You can get plastic surgery or go to the gym to improve your look.
Becoming an actor
After graduating high school, you can join the actor career. There are three options in this menu:
Agents
Look for a talent agent to help you secure movie or TV roles. You need to pay a small fee to look for an agent. If successful, you will get a pop-up of someone offering to represent you. You may then decide to hire them or turn them down.
Audition
You can audition for a film or a TV show. There are different movie and TV roles to select. Before requesting to audition for an acting role, you have to be fit for the position, and your age matters when auditioning. Once you find one with a good fit, request an audition. If you have an agent, they may secure you an audition if their reputation is high enough. After auditioning, if you get selected for the role, you may accept it, ask your agent to negotiate for more money, or turn it down. When you sign the contract, there will be a purple stat below the screen that indicates your reputation. You have to work hard to improve your reputation. To boost your reputation, you can go out in character, work on your lines or draw attention to your film. Although the last option is risky, avoid it if you can. When you age up, you will receive a pop-up that indicates the success of your movie or TV show.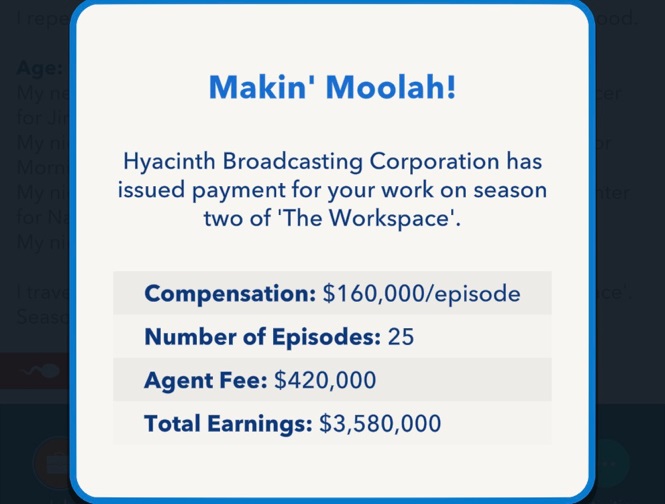 Extra
You can look for an opportunity to work as an extra. Being an extra in Bitlife does not pay as well as auditioning for a movie or TV role.
After featuring in a film or TV show, you will become famous. Your director may ask you to;
Travel to a different city to shoot a movie or show.
Perform ridiculous activities for a role.
Take hard drugs, etc.
You may also get nominated for best actor. You can attend the ceremony via video, refuse to attend, or attend the ceremony in person. If you go to the ceremony and win the award, you will get invited to give a speech. The movie or TV show you featured in may also receive a nomination.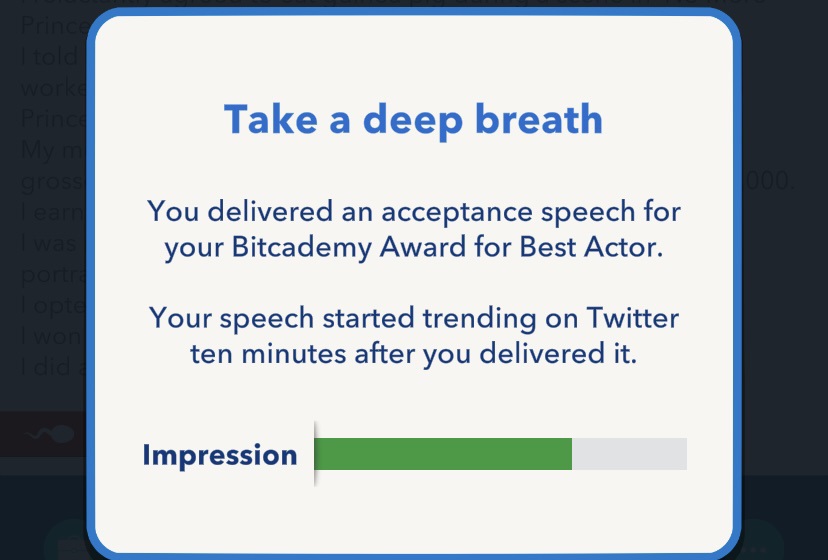 In the filmography menu, you can see all your movies and TV shows.
As a famous actor, you will earn a lot of money from acting if your reputation is high enough. There are also achievements to unlock in this career. To become an actor, you have to select acting as your talent, improve your acting skill, have good stats, and audition for a role.