The musician career is one of the job packs that allow you to become famous in Bitlife. When you purchase this job pack, you will have access to all the features that come with it. You can become a musician by auditioning for a band or as a solo artist.
Taking Voice Or Instrument Lessons

Select music as your talent. Doing this will help you gain skills faster.
When you reach age 8, you can ask your parents to let you take courses on instrument or voice lessons. There are various instruments you can take classes on. When your parents agree, you have the option to start taking courses. You can only use this option thrice a year, after which the bar will stop increasing. Keep taking lessons each year to improve your skill.
Becoming A Solo Artist
After graduating high school, if your skill is high enough, you can audition as a solo artist. If this stat is not high, you must pay to take a lesson after age 18.
To become a solo artist, pick your career type depending on your skill. If your voice skill is high, select a singer as your career type. You can also choose the instrument you have mastered, such as cellist, bassist, pianist, saxophonist, violinist, and guitarist. After selecting this, choose your record label and request an audition. There are three outcomes you may face;
You may not get a call back for the audition
You may perform well or terribly and not get a contract
You may perform moderately or excellently and get a contract.
In the first two scenarios, you can close the app, reopen it and try to reaudition.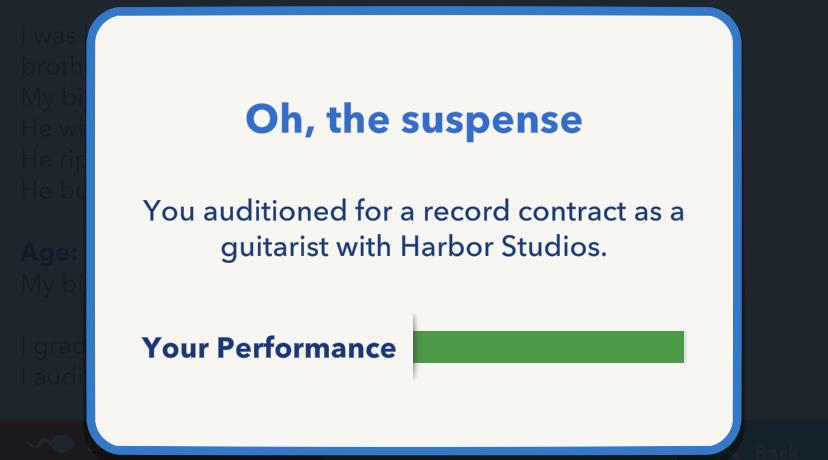 Also, if you don't get the genre you want, you can reset the game till you get a contract in the genre you want.
When you get a contract, the pop-up will indicate your;
Role: the career type you chose is the role you will get
Genre: there are different genres of music in Bitlife, which are rock, rhythm and blues, pop, rap, country, and worship. The type you will get depends on the game.
Record label
Advance: it is money paid to you after signing the contract. Genres like pop and rap pay more in advance, while rhythm and blues pay less.
Royalty rate
Term: it is the length of your contract with your record label. When this contract expires, your record label may offer you a new contract.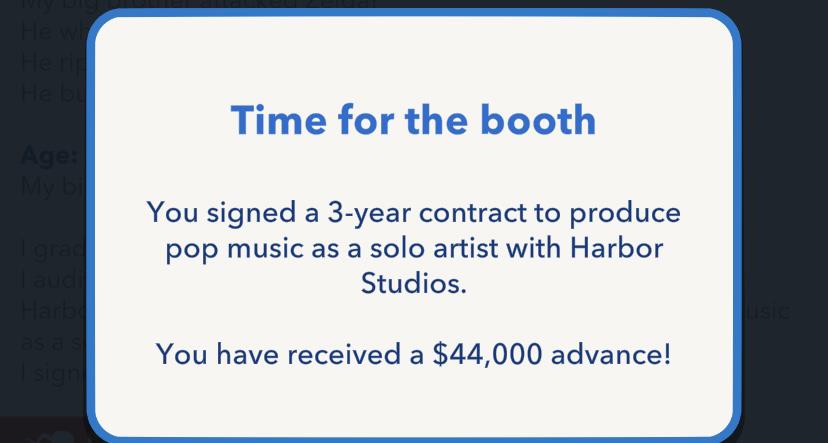 After signing the contract, you will become a musician. If you choose an instrumentalist as your career type, you will become a professional guitarist, cellist, saxophonist, pianist, etc. Produce a single or an album to become famous. Keep releasing music to increase your popularity stat. Your record may get certified gold, platinum, double platinum, or diamond. Gold is the lowest certification, while diamond is the highest. You can earn more money by embarking on world tours, putting on live concerts, writing books, doing tv commercials, and posing for magazines. You may also team up with a band if you don't want to be a solo artist.
There is no age limit for the musician career. You can keep producing music even in your 90s. The musician job is one of the high-paying careers in Bitlife.