If you're looking for a high-paying job that doesn't give fame, you can work towards becoming a nurse, brain surgeon, dentist, pharmacist, veterinarian, etc. These jobs require you to complete university and seek higher education. To become a pharmacist, you must complete four years in pharmacy school. Getting into this school is easy. You only need above 50% smarts and a degree in biology, chemistry, or physics. This article will guide you in becoming a pharmacist in Bitlife.

Having High Smarts
You don't need 80% smarts to become a pharmacist. But you must maintain a moderate stat to get into University. You can adjust your smarts when creating your character with godmode. You can also randomise new lives till you get one with good stats.
After starting a new life, you can increase this stat by;
Visiting the public library: in the mind and body tab, you can visit the library to improve your smarts.
Reading a book: you can choose from various books to read. There are different genres, such as children's picture books, novels, fiction, autobiography, etc. The pages vary from 20-3000+ pages. Children's picture books have lesser pages, and some give a massive boost to this stat.
Scoring high on the memory test: you can evaluate your memory by taking this test. You must play a mini-game that requires you to memorise the sequence of colours.
Watching a documentary: go to the movie theatre to see a documentary. If you can't find one to watch, age up and try again.
Boosting it: this option is only available if this stat is red or orange. You will get a pop-up, and accepting it will improve your smarts.
Applying To University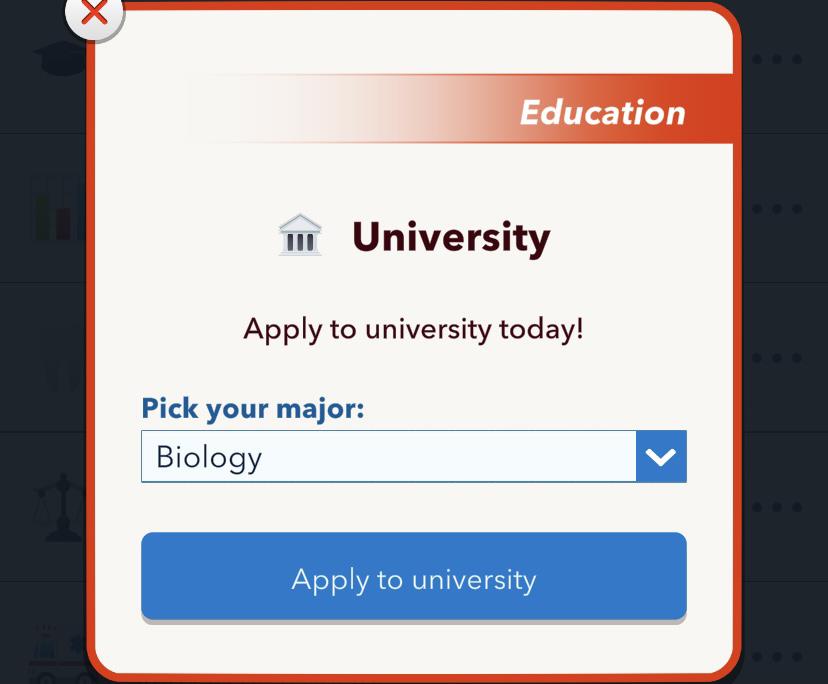 After graduating high school, apply to University and choose chemistry, physics, or biology as your university major. Once you get accepted, you can ask your parents to pay, apply for a scholarship, take a student loan, or pay with cash. Getting a scholarship is a random occurrence, and your parents will agree to pay if they are generous. You can view this stat when you open their profile in the relationship tab. With God mode, you can edit and give them high generosity. If you take a student loan, get a part-time job to avoid a negative bank balance. After you enrol in University, study harder to improve your grades.
Attending Pharmacy School

Once you finish university, seek higher education and apply to pharmacy school. After you get accepted, choose how you will pay and keep ageing until you graduate. This school takes four years to complete.
Becoming A Pharmacist

After completing pharmacy school, browse the full-time job listing for the position of jr. pharmacist. It is the entry position of this career. You should find this job if you check immediately after pharmacy school. However, if it is not there, you can refresh the list by closing and reopening the game. Once it appears, apply for it and answer the interview question.
As a jr. pharmacist, keep working hard to get promoted. The positions in this career are;
Jr. pharmacist – pharmacist – sr. pharmacist
After working for 20 years, you will collect this career achievement.