When you get a job in Bitlife, you can work hard to occupy the top position. Many jobs have only three ranks, while some have many titles, and getting to the top might take years. Some of these careers include; priest, model, restaurant worker, lawyer, executive, firefighter, app developer, etc.

As a firefighter, the highest position you can occupy is a fire chief. You will get many promotions to reach this level. You must work as a firefighter and work hard to become the fire chief. You only need a secondary/high school degree and good health to get this job. This article will guide you in becoming a fire chief.
Creating Your Character
With godmode, you can adjust your health stat when creating a new life. You can also randomise lives till you get one with moderate stats. If you are born with good health, you must maintain it by making good choices, avoiding fights, and treating illnesses immediately. Some activities that improve your health are:
Working out at the gym: you can visit the gym each year from age 12. This option is free until you are 18 years. This activity also boosts your athleticism, looks, and happiness.
Going for walks: pick the pace and time you want, and go for a walk.
Practising martial arts: there are five options such as jiu-jitsu, judo, karate, kung-fu, and taekwondo.
Meditating: this option will show you a hidden attribute when you select it.
Taking voice or instrument lessons: if you take a course on instrument or voice classes, it may boost your health.
Going on a diet: the best one is the Mediterranean diet. Others include vegetarian, Nutri system, Jenny Craig, weight watchers, and south beach.
Getting a massage: in the salon & spa menu, you can choose the type of massage you want.
The first five options above help improve your health before 18 years.
Becoming A Fire Chief

Once you graduate from high school and have good health, browse the full-time job listing for the position of firefighter/probationary firefighter. If it is not on the list, close the game, and reopen it to refresh this category.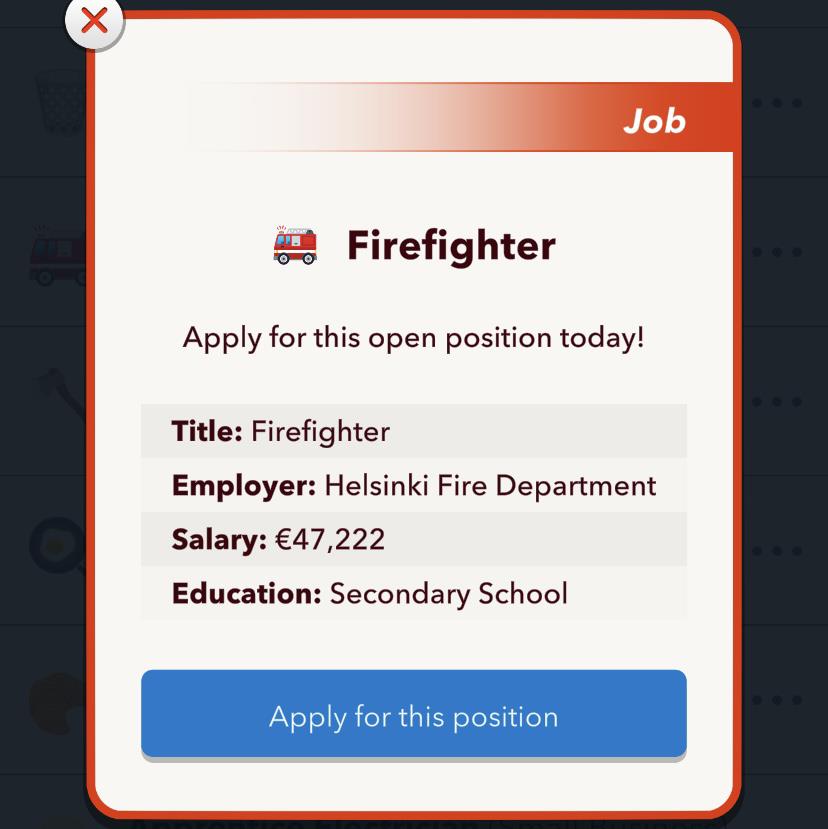 Once it appears, apply for this position and answer the interview question.
After getting the job, you can improve your performance by working harder each year or increasing your weekly hours. Watch your stress level because a red bar can lead to high blood pressure. You will get a promotion or raise as you age. There is no specific duration for getting a promotion. You may get one in less than five years or after some time. You can also get random work scenario pop-ups as you age, and selecting the wrong option will decrease your job performance.
The order of promotion in this career are:
Probationary firefighter – firefighter – fire equipment operator – lieutenant – captain – battalion chief – assistant chief – fire chief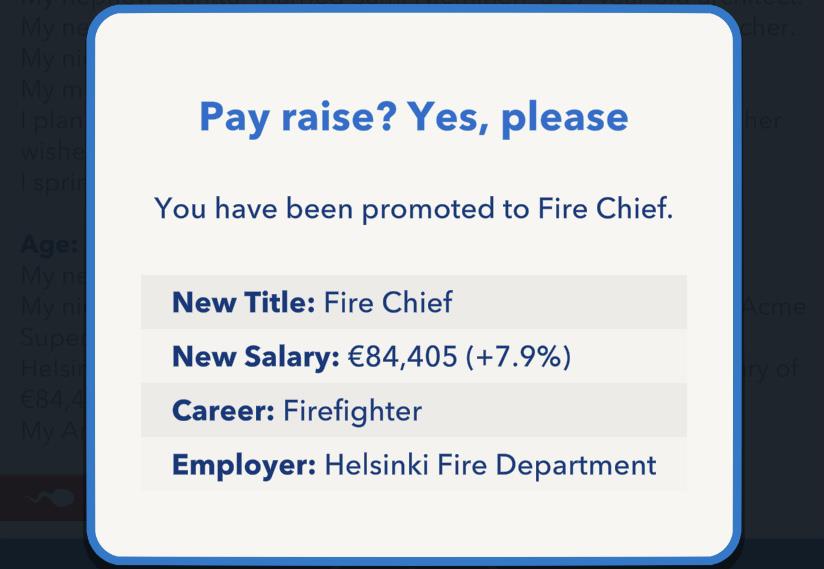 Once you become a fire chief, you will only get raises every few years. After working for 20 years, you will collect this career achievement.