Bitlife – life simulator allows players to get any job they want if they have the qualifications. Some jobs require further education after University, and they are usually high-paying. You can also get a job without a requirement, but they have low pay. These careers are at the bottom of the job list, such as a porn set janitor, worm picker, magician, water slide tester, clown, etc. There are numerous reasons to get a job as a clown, such as;
To collect this career achievement: if you're working towards obtaining all the careers in this category. You need to work for 20 years as a clown.
To complete a weekly challenge: a future challenge may require you to get a job as a clown.
To recreate a movie character or real-life person: you might want to live as a famous clown like pennywise, the joker, or even Krusty.

You can also play for the fun of it. Applying for this position is easy. However, finding this job may get tiring because it is rare.
Creating Your Character
The first thing you need to become a clown is a male character. It is the only requirement you need to get this job. You won't get accepted as a female unless you get a gender reassessment surgery.

You can find this option in the plastic surgery menu. However, this procedure is expensive. You can get fast cash from stealing and reselling cars, burgling homes, and robbing a bank.
You will get access to the full-time job listings once you are 18 years.
Becoming A Clown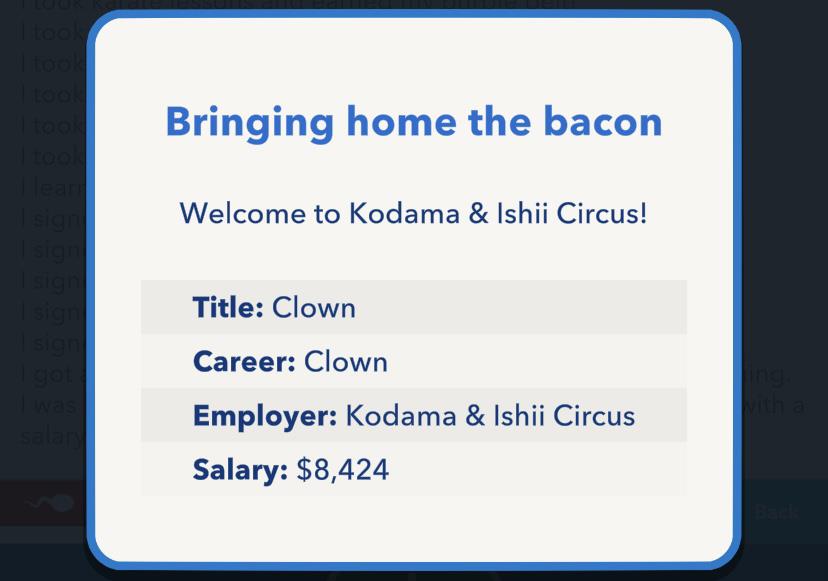 You don't need high school qualifications to get this job. Thus, even if you drop out of high school, you will get an interview. The clown position is rare to find. Once you are 18 years, open the occupation tab and select the job menu. Scroll down to check for this role on the list. If it isn't there, you can refresh this category by;
Closing and reopening the game: if this job is not on the list, close the game and reopen it. Doing this will clear the previous selection and give you new options.
Switching to a previously saved life: if you don't want to go through the process of closing the game, you can go to the menu and switch to a previously saved life, then switch back.
Ageing: another way to refresh the job listing is by ageing your character. However, it may take time to find it, and you may lose many years without noticing. This method is not ideal if you are trying to complete a challenge.
Once this position appears in this category, apply for it and answer the interview question correctly. If you fail the interview, you won't get accepted, and it might take time to find another job opening.
There are no other positions available in this career, but you may get a raise every few years.
As a clown, you will get random work scenarios when you age. Choosing the wrong option will reduce your job performance.

After working for 20 years, you will collect this achievement.