Heirlooms in Bitlife – life simulator is an additional feature that makes the game exciting. It is a valuable object passed down through generations.  You can own an heirloom worth $1-$1.2b. When you continue living as your child, they will inherit your heirloom.

You can find useful ones, such as the holy grail, ark of the covenant, crown, violin, diamond, and worthless ones, like a personal diary, seashell, trophy, VHS tape, etc.
To look for an heirloom, you must play a minigame which involves dragging a flashlight across a dark room. Whichever one you find is by chance.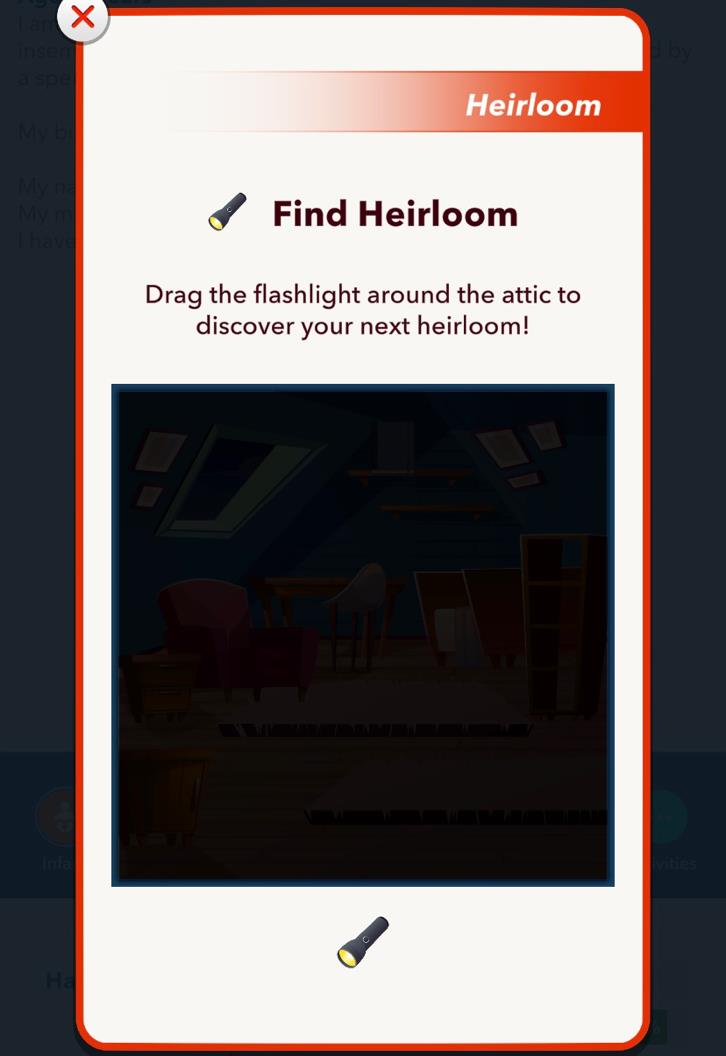 How To Use An Heirloom
In the assets menu, you can view the list of heirlooms you have collected in one life.

When you select one, you can perform various activities with it.
Discard- get rid of it
Donate- you can donate your heirloom to charity
Play- when you play with the holy grail, it will unlock the sacrilege achievement.
Refurbish- you can pay to improve the quality of your heirloom when you refurbish it. Not all of them have this option.
Sell- you may also sell your valuable heirlooms for a lot of cash.
List of heirlooms
Acrylic Paint Set
Alarm Clock
Amphora: Ancient Greek Amphora
Anal Beads
Antique Sextant
Ark of the covenant
Atari 2600
Ballet Shoes
Bamboo Chopsticks
Bar Of Soap
Baseball: 1969 World Series Game Ball
Basketball
Basket Of Dirty Laundry
Bell: "Bates Motel" Service Bell
Bicycle: 1987 Schwinn Bicycle
Binder: Binder of first-edition Pokémon cards
Blu-Ray Disc
Book
Bottle Of Whiskey: Bottle of Fireball Whiskey
Bottle Of Wine: 1945 Romanee-Conti Wine Bottle
Bow And Arrow
Boxing Glove: Andy Ruiz Jr's Boxing Glove
Bra
Brain: Frankenstein's Brain
Camping Tent
Candle
Canoe
Card: 1st Edition Holographic Charizard Card
Card: Michael Jordan Rookie Card
CD: Burned CD of 'Thriller' by Michael Jackson
Checkered Flag
Cigar
Cigarette Butt
Compass
Cowboy hat: John Wayne's Cowboy Hat
Crown: Charlemagne's Crown
Crystal Ball
Deck Of Cards
Desk Chair
Diamond: 10-Carat Diamond
Diamond Ring: 2-Carat Diamond Ring
Disco Ball
DogLife Sticker: DogLife app icon sticker
Dolls: Japanese Geisha Dolls
Donut
Dress
DVD: Burned DVD Copy of "Inception"
Excalibur
Faberge Egg
Fax Machine: 1987 fax machine
Film Reel: Original film reel from 'Debbie Does Dallas'
Film Reel: Original film reel from 'Wizard of Oz'
Fine China Set
Flat-Screen TV
Floppy Disk: 'Oregon Trail' video game disk
Fossil: T-Rex Dung Fossil
Fountain Pen
Four-Leaf Clover
Funeral Urn
Gas Pump: 1960's Route 66 Gas Pump
Graduation Cap
Guitar: 1968 Fender Stratocaster
Hammer Of Thor
Holy Grail
Horn: 19th Century Postal Horn
Hoverboard
Ice Skate: Tonya Harding's Ice Skate
Kimono
Kite
Knife: Gordon Ramsay's Knife
Leather Briefcase
Light Bulb: Thomas Edison's Light Bulb
Lipstick: Marilyn Monroe's Lipstick
Lucky Dice
Mahjong Tile
Makeup Brush
Map: Roadmap of the United States
Medieval dagger
Megaphone: Cheerleading Megaphone
Microphone: Jimmy Kimmel's Microphone
Microphone: Kanye West's Burning Man Mic
Microscope
Miniature Sailboat
Model Rocket
Movie Camera: 1995 Sony Movie Camera
Nazar Amulet
Necklace
Nesting Dolls
Newspaper: Newspaper from December 31st, 1999
NFT
Notebook
Olympic Medal: Michael Phelps Bronze Medal
Padlock
Pager: 1993 Motorola Pager
Palette
Painting: Original Picasso Doodle
Personal Diary
Piano Keyboard
Prayer Beads
Pride Flag
Radio: 1951 Radio
Rolex Watch
Roll Of Toilet Paper: Roll of single-ply toilet paper
Rosetta Stone
Rotary Telephone
Ruby Slippers
Saxophone: Duke Silver's Tenor Saxophone
Scissors
Scooter: 1962 Vespa Scooter
Seashell
Shopping Bags
Single Red Balloon
Skateboard
Skeleton Key: Notre Dame Cathedral's Skeleton Key
Sled
Slot Machine
Snare Drum: Revolutionary War Snare Drum
Soccer ball: 2010 FIFA World Cup Game Ball
Stack Of Letters
Sunglasses: Ferris Beuller's sunglasses
Sunglasses: Ray Charles's Sunglasses
Sword: "Game of Thrones' sword
Takeout Box: Vintage Chinese takeout box
Teddy Bear
Telescope: Galileo's Telescope
Television: 1965 Television
Tennis Ball
Test Tube: Marie Curie's Test Tube
Ticket Stub: 1972 'Jaws' ticket stub
Ticket Stub (Blue): 2008 Coachella Ticket Stub
Tissue: Used Tissue from Bitlife HQ
Titanic Anchor
Toaster
Toilet: Donald Trump's Golden Toilet
Toolbox
Top Hat
Trophy: 2007 Jordan Elementary School Spelling Bee Trophy
Trumpet: Louis Armstrong's Trumpet
Umbrella
VHS Tape: 1988 Family Reunion VHS Tape
Violin: 1702 Stradivarius Violin
Wig: RuPaul's Wig
Wind Chime
Whip: Indiana Jones' Whip
Yo-yo