This Minecraft tutorial explains How to make a Blast Furnace in Minecraft with detailed screenshots and step-by-step instructed process.
When playing Minecraft, one of the tools that every player thinks they must necessarily use right from the start is definitely the blast furnace. In fact, through the use of the blast furnace you will be able to melt different materials such as metals, armor and various tools at twice the speed compared to the normal furnace. Remember that the Blast Furnace is essential for smelting ingots of iron, copper, gold, diamonds, coal, redstone dust, emeralds, coal and more.
These are all resources that you will find essential as you learn to play in Minecraft, because they can serve as a basis for other objects, sometimes as fuel for tools such as the brewing station and therefore their applications are practically endless! Follow this guide to learn about the various steps to take to build a blast furnace. Also remember that you can find a ready-to-use blast furnace by going to a gunsmith's house. Let's start!
Required Materials to create a Blast Furnace in Minecraft:
| | | |
| --- | --- | --- |
| Image | Name | Quantity |
| | Smooth Stones | 3 |
| | Furnace | 1 |
| | Iron Ingots | 5 |
Creating a Blast Furnace is very simple: you can choose crafting if you are in survival mode, so follow the first option. If you are in creative mode, go directly to the second option.
OPTION ONE: CRAFTING A BLAST FURNACE IN SURVIVAL MODE
1. Open the workbench manufacturing grid
Lay out a workbench along the ground and open the manufacturing grid by right clicking on it. A grid similar to this will appear:

2. Insert the different materials in the grid squares: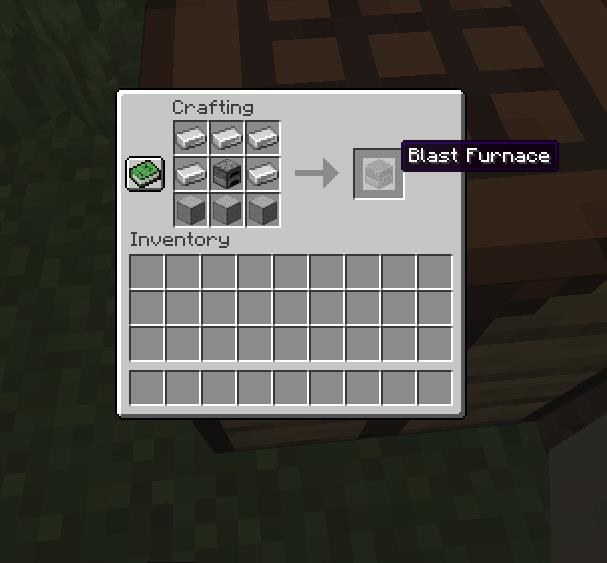 Now follow these instructions carefully: insert five iron ingots into the manufacturing grid by placing them in the first three squares at the top and then in the central ones on the right and left. Then proceed by inserting the furnace in the central square. Finally, place three blocks of smooth stones in the remaining squares at the bottom. To better understand how to do this you can follow this image:
A blast furnace will appear as if by magic, ready to be used immediately! Easy right?
ADDITIONAL NOTE: If you don't have a ready-made furnace to be inserted in the grid , you can always create it by first inserting eight blocks of crushed stone into the manufacturing grid, leaving only the central square of the grid empty.
3. Collect the item
Once you have crafted the blast furnace through the workbench crafting grid, all you have to do is click on it and move it to your inventory.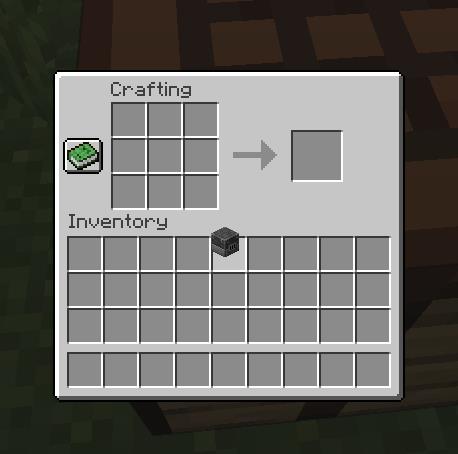 4. Use the blast furnace
To use the blast furnace, just select it from the inventory and right click on any part of the land where you want to place it. Then right-click on it again and the grid will open where you can enter the casting instructions for the materials you want to blend.
OPTION TWO: FIND THE BLAST FURNACE IN CREATIVE MODE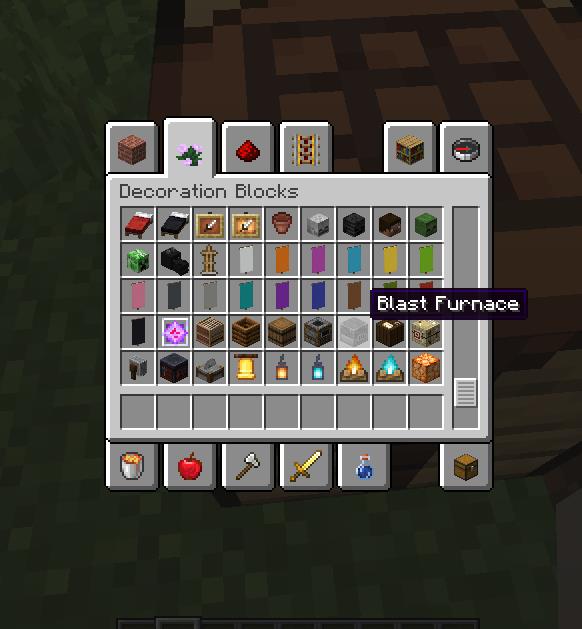 You can easily find the blast furnace, if you are in creative mode, in the "Decorations" section
All screenshots are taken from Dreamtastix YouTube Channel