Some of the famous secret codes and their benefits are:
| Code | Reward | Status | Release |
| --- | --- | --- | --- |
| Super Cool | Plaque | working | 10/05/2023 |
| sprint | Reward | working | 10/05/2023 |
| BLOO | Reward | working | 10/05/2023 |
| MINI SNOW | Mini Snow Plaque | working | 10/05/2023 |
| gun | Gun | working | 10/05/2023 |
| minigun | Minigun | working | 10/05/2023 |
| ROOBYBUTTON | Ruby Button | working | 10/05/2023 |
| Milk | Milk | working | 10/05/2023 |
| FREERED | Red | working | 10/05/2023 |
| FREEGREEN | Green | working | 10/05/2023 |
| Spongeb0b | Reward | working | 10/05/2023 |
Expired Codes:
GHOST—Redeem for a free ghost decoration
DOUBLEJUMP—Redeem for a free reward.
OBESE—Redeem for a free Appearance Change
CODE—Redeem for a free starter computer
PUMPKIN—Redeem for a free pumpkin decoration
fat—Redeem for an increase in your character's size
flat—Redeem for a decrease in your character's size
tall—Redeem to make your character incredibly tall
The life of YouTubers inspires the Roblox YouTube Simulator game. In this game, the player has to play the role of a youtube content creator, more specifically, a vlogger. If you know what vloggers do, the game will be very simple.
Once you launch the game, your life in-game as a vlogger will start. You have made videos using your camera throughout the day. If you recorded your video, then it will be stored on your memory card or SD card. You have edited the video stored on the SD card. It will increase your views and subscribers on your channel. You can earn money by following this process, which you can use to upgrade your setup.
There are shops in the game where you can get all the accessories to improve your setup. You can buy a new camera for your shooting, and it will also increase the chip size. In the world of YouTube Simulator, you can get red dollars, which can be used to buy furniture for your setup. At the same time, you can purchase a high-end PC for yourself worth $10,000.
The players also have an option to customize their room. This game gives the real-life feeling of a YouTuber. You need to go out and begin the conversation with the people, increase your subscribers and make cool content. There must be a balance between passion & your mental health.
Benefits Of Using Youtube Simulator Codes
Secret codes in the game give the players extra abilities or rewards. It will help the player to stand out from the competition or to facilitate playing smoothly. The secret codes in YouTube Simulator help the players to improve the experience of the YouTube influencer life in the game. Some of the codes also have an expiry, so make sure the code is an active one.
How To Redeem YouTube Simulator Codes?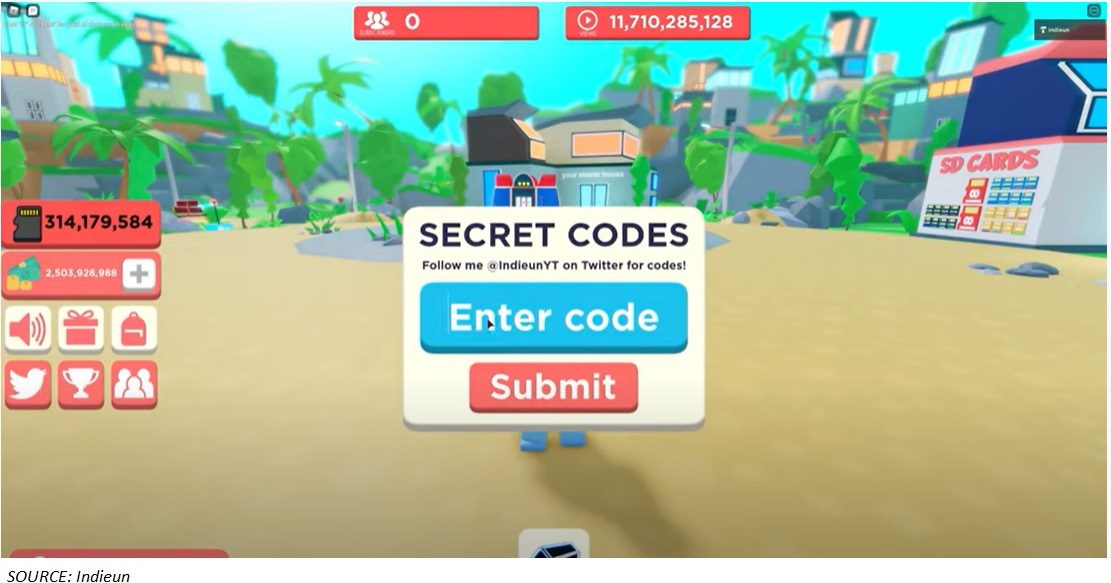 Are you playing the Roblox YouTube Simulator for the first time? You can improve your experience by trying out the YouTube Simulator Codes; if you have never redeemed any code in this game, then don't. You can apply the coolest codes in your game by following the simple steps.
Launch the game and log in to your player's account of Roblox YouTube Simulator.
On the left-hand side of the gaming interface, you can spot plenty of options. Select and click on the button having the Twitter icon.
Once you click on the Twitter icon, a pop-up box will appear with "Secret Codes."
Under the message "Follow me @indieunYT on Twitter for codes!" you will get an option to enter a code.
You can type the desirable codes you have and click on the "submit" button in order to apply.