Once you've played and enjoyed Roblox, you are going to ask, "How much Robux cost?" This is a fairly valid question that many fans would love answered and there are several answers to this. Generally speaking, getting Robux is simple and easy, the conversion rate is easy as well so you don't have to think that hard about everything.
What Is Robux?Robux is the virtual currency that is used in the popular online game Roblox to purchase items and character upgrades and it is a wonderful way to further extend the enjoyment you get out of the game. Simply put, these are Roblox Bucks that you can spend in the game to gain certain perks and cosmetics.Think of Roblox as a country and Robux the currency they use. Just like when you visit Mexico you use peso when you visit Roblox, you use Robux. You'll need to exchange your real-world currency for the virtual world one in this case but the basic principle remains the same.
Do You Need Robux?
The answer is complicated. One of the biggest reasons why the Roblox game is so popular is it's free to play nature. You don't have to pay anything to download and start playing the game. However, we all know free to play games die fast if there are insane microtransactions or pay to win mechanics implemented. Roblox doesn't do any of that and instead has a fair system of microtransactions that doesn't penalize the free player at all.
You actually don't have to spend any real money to enjoy the game and that's what makes it one of the best free to play games around. However, if you want to support the developers, or enjoy additional perks in the game that in no way will give you an unfair advantage, then Robux is one of the best ways to do both. Of course, there are some aspects of the game that are behind a paywall and that is to be expected from a free to play game, they need to make some money to survive as well.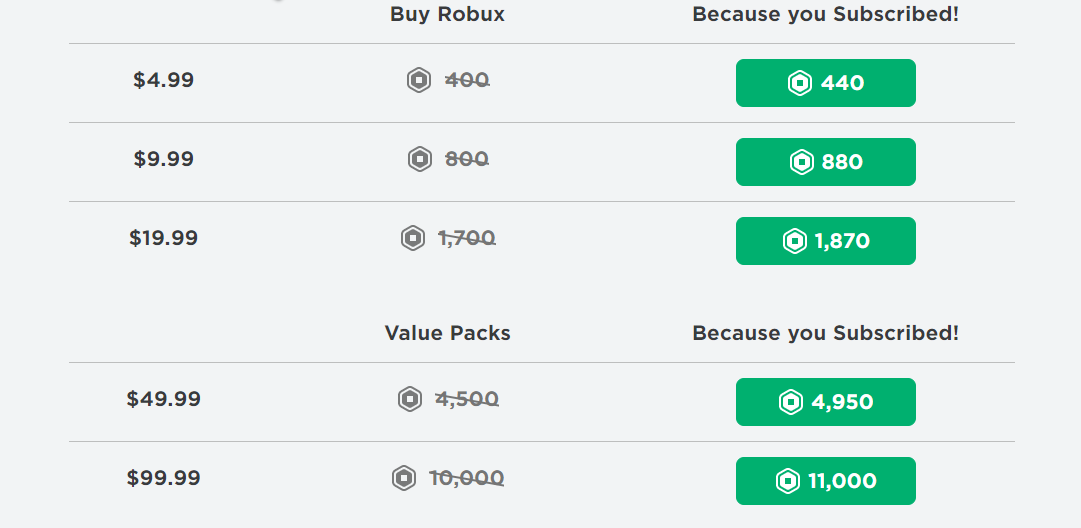 How to buy Robux 
In order to buy Robux you'll need to head to the official website:
https://www.roblox.com/upgrades/robux
Full Robux Prices:
●    $4.99 will get you 400 Robux
●    $9.99 will get you 800 Robux
●    $19.99 will get you 1700 Robux
●    $49.99 will get you 4500 Robux
●    $99.99 will get you 10,000 Robux
However, if you subscribe to the Builders Club, which is a premium membership for the game, you will get free Robux every month.
●    $4.99 will give 450 Robux per month
●    $9.99 will give 1000 Robux per month
●    $19.99 will give 2200 Robux per month
That's not all though! There are several options available when you subscribe!
●    $4.99 will get you 440 Robux
●    $9.99 will get you 880 Robux
●    $19.99 will get you 1870 Robux
●    $49.99 will get you 4950 Robux
●    $99.99 will get you 11,000 Robux
Conclusion:
Some games and areas are also off-limits to free to play players and you will need Robux to get access. That is a fair system in our books. The best deal is to get subscribed to the Builders Club as it gives you access to more than just free Robux, it gives you additional perks and extra Robux. Overall, it is very easy to get Robux but you cannot do that for free, you will need real money or a gift card to do so.