Here are some of the famous secret codes which you can redeem to get a huge amount of cheese:-
Kitty Codes (Expired):-
Anniversary—Redeem this code for a bunch of Cheese
Kitty1Year—Redeem this code for a bunch of Cheese
ThanksYouAll—Redeem this code for a bunch of Cheese
TMF100—Redeem this code for a bunch of Cheese
MetaverseEvent—Redeem this code for a bunch of Cheese
Chapter11IsHere—Redeem this code for a bunch of Cheese
SOM503—Redeem this code for a bunch of Cheese
GAB220—Redeem this code for a bunch of Cheese
ASB771—Redeem this code for a bunch of Cheese
NewColorMinigame—Redeem this code for a bunch of Cheese
FREECHEESE—Redeem this code for a bunch of Cheese
WOWCHEESE—Redeem this code for a bunch of Cheese
EVENT50OFF—Redeem this code for a bunch of Cheese
CYBERKITTY—Redeem this code for a bunch of Cheese
50OFF—Redeem this code for a bunch of Cheese
CH8SecretEnding—Redeem this code for a bunch of Cheese
CH8SecretEndingIsHere—Redeem this code for a bunch of Cheese
Noodles—Redeem this code for a bunch of Cheese
FGTeeV—Redeem this code for a bunch of Cheese
FUNHouseFamily—Redeem this code for a bunch of Cheese
Daylins—Redeem this code for a bunch of Cheese
CH9SecretEnding—Redeem this code for a bunch of Cheese
MerryChristmas—Redeem this code for a bunch of Cheese
CH10ComingSoon—Redeem this code for a bunch of Cheese
HappyNewYear—Redeem this code for a bunch of Cheese
AWG106—Redeem this code for a bunch of Cheese
FUNhouseVlogs—Redeem this code for a bunch of Cheese
superdog—Redeem this code for a bunch of Cheese
YoutuberSkins—Redeem this code for a bunch of Cheese
Snowi—Redeem this code for a bunch of Cheese
NewMinigame—Redeem this code for a bunch of Cheese
gremlintreats—Redeem this code for a bunch of Cheese
NewEnding—Redeem this code for a bunch of Cheese
Ch7SecretEndingRedeem this code for a bunch of Cheese
CH6IsHere – Redeem this code for a bunch of Cheese
NewUpdate – Redeem this code for a bunch of Cheese
BigB – Redeem this code for a bunch of Cheese
Premiumsalad – Redeem this code for a bunch of Cheese
FreeVipServers – Redeem this code for a bunch of Cheese
CH6ComingSoon – Redeem this code for a bunch of Cheese
EpicCheeseCode – Redeem this code for a bunch of Cheese
Cerso – Redeem this code for a bunch of Cheese
ItsPlasmaYT – Redeem this code for a bunch of Cheese
Conor3D – Redeem this code for a bunch of Cheese
Rovichuelos – Redeem this code for a bunch of Cheese
SamyMoro – Redeem this code for a bunch of Cheese
Karola20 – Redeem this code for a bunch of Cheese
FancySmash – Redeem this code for a bunch of Cheese
Barunka – Redeem this code for a bunch of Cheese
CALIXO – Redeem this code for a bunch of Cheese
GamingDan – Redeem this code for a bunch of Cheese
Santy22 – Redeem this code for a bunch of Cheese
Whisper – Redeem this code for a bunch of Cheese
FrostyBlox – Redeem this code for a bunch of Cheese
Gravy – Redeem this code for a bunch of Cheese
ThinkNoodles – Redeem this code for a bunch of Cheese
CH5SecretEnding – Redeem this code for a bunch of Cheese
Vexo – Redeem this code for a bunch of Cheese
Clausamoro – Redeem this code for a bunch of Cheese
500MVisits – Redeem this code for a bunch of Cheese
RGCFamily5K – Redeem this code for a bunch of Cheese
Raconidas – Redeem this code for 35,000 Cheese
InfectionModeIsHere – Redeem this code for a bunch of Cheese
Chapter4Date08/21 – Redeem this code for a bunch of Cheese
Chapter4IsNow – Redeem this code for 500,000 Cheese
KittyHappyDanc3 – Redeem this code for a bunch of Cheese
CodeFancy – Redeem this code for a bunch of Cheese
ByN – Redeem this code for 2,000 Cheese
IJustMemo – Redeem this code for a bunch of Cheese
20KTwitter – Redeem this code for a bunch of Cheese
UP5NOW – Redeem this code for 100,000 Cheese
1MillionFavs – Redeem code for 500,000 Cheese
10KUsers – Redeem this code for 10,000 Cheese
Noangy – Redeem this code for a bunch of Cheese
Betroner – Redeem this code for a bunch of Cheese
MouseCuTwitter500 – Redeem this code for a bunch of Cheese
CH3Now – Redeem this code for 10,000 Cheese
CoesDix – Redeem this code for 500 Cheese
250kgroupmembers – Redeem this code for 25,000 Cheese
update4ishere – Redeem this code for 1,500 Cheese
Flamingo – Redeem this code for 5,000 Cheese
titani – Redeem this code for 2,000 Cheese
finalendingch2 – Redeem this code for 1,000 Cheese
elseniorrx – Redeem this code for 1,000 Cheese
TinenQa – Redeem this code for 1,000 Cheese
ch2open – Redeem this code for 4,500 Cheese
Rovi – Redeem this code for 1,000 Cheese
Manucraft – Redeem this code for 1,000 Cheese
Cerso – Redeem this code for 1,000 Cheese
Redro3 – Redeem this code for 800 Cheese
igisgabstudio – Redeem this code for 2,000 Cheese
newcode – Redeem this code for 4,000 Cheese
seniorrrx
MORTADELA
ch2coming
CoesDix
Do you love adventurous games? Are you someone who gets pleasure in solving puzzles, exploring things, using maps, and adventurous journeys? If yes, then the game Roblox Kitty is for you. The game may seem like a "Tommy and Jerry" show.
The game has Kitty and also has a mouse. You can play any of these characters. But the objects will alter according to the character if you look into the game from Kitty's point of view. You have to catch the mice within the given time. You can plan and put traps in order to catch them. But the game becomes more challenging due to its puzzles and the balance of power between both the characters.
Even if you play the role of the mouse, you will enjoy the game. You can escape from the traps put by the kitty. The game is stuffed with more than 10 different ends, which makes it a bit entertaining.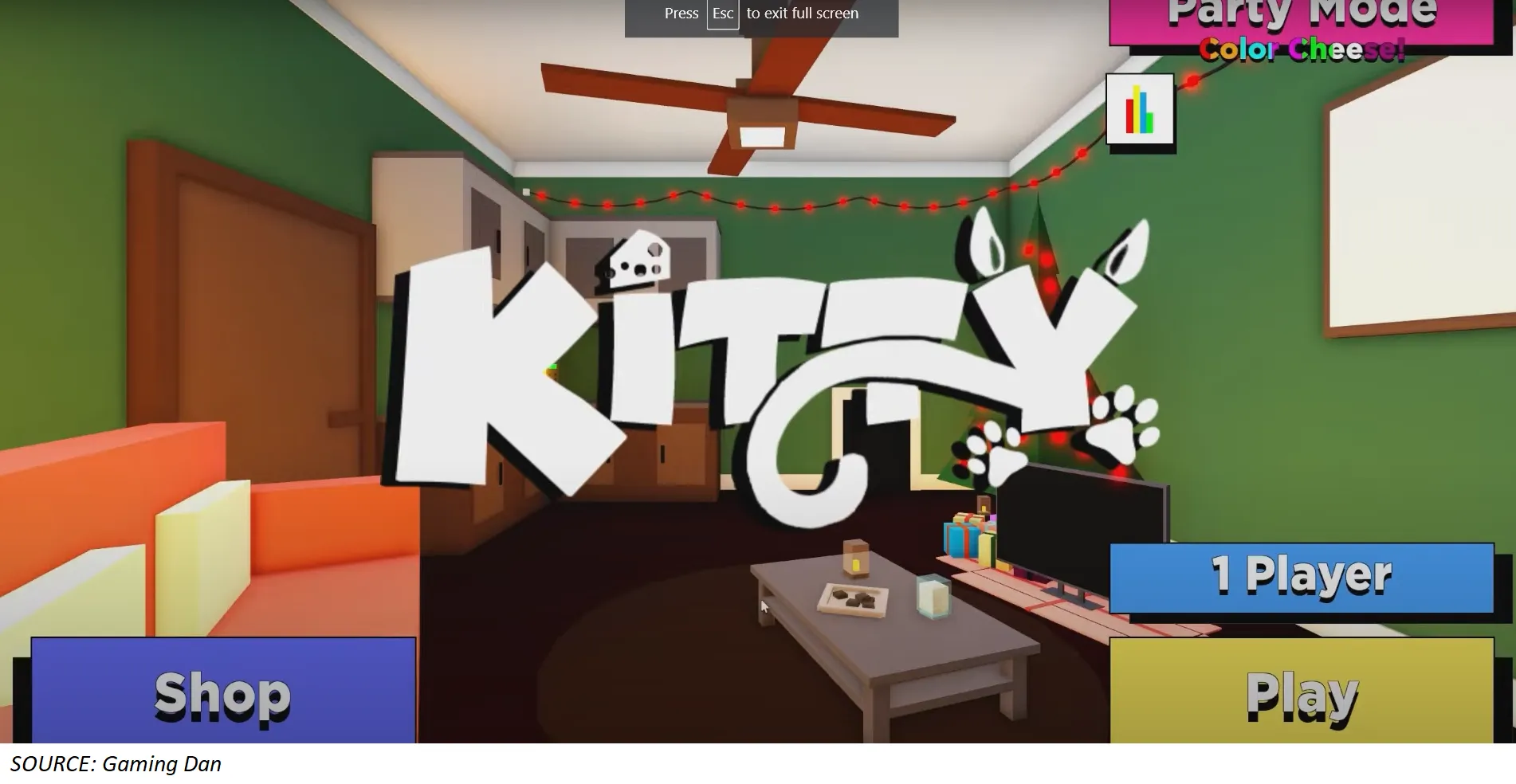 Benefits Of Using Roblox Kitty Codes
In the game "Roblox Kitty," you will get plenty of exciting codes. The prime purpose of these codes is to provide you with cheese. You can use this cheese to purchase weapons, skins, and emotes in the game. The use of cheese makes it a fun-loving game for the players.
How To Redeem Roblox Kitty Codes?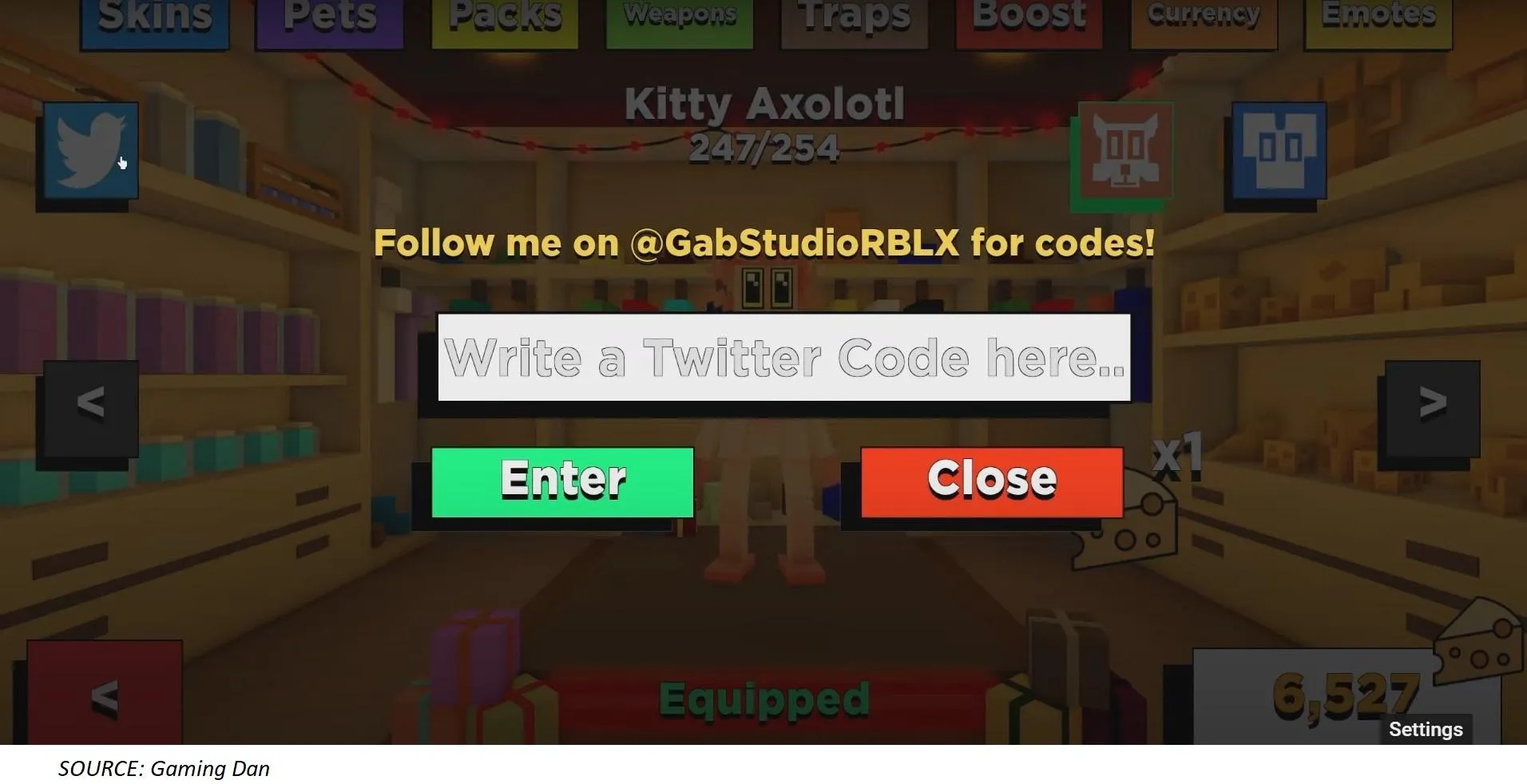 It will be tough to survive in Roblox Kitty without applying secret codes. You will need cheese at every move. It is very simple if you are new to Roblox Kitty or want to redeem the secret codes but don't know how to do it!
You need to track the steps mentioned below in order to redeem the code:
Sign in to Roblox and launch the game "Roblox Kitty" using your player account.
In the gaming interface, you can spot a purple color "Shop" button at the bottom just opposite the "Play" button.
Click on the "Shop" button, and a fresh interface will appear.
Select and click on the "Twitter" icon present on the left-hand side.
Once you click the "Twitter" icon, a pop-up box will show up on the screen. You can spot a space to type your code.
Type your desired code and click on the "Enter" button in order to apply the code.
There is a high possibility that most of the codes in Roblox Kitty may not work. This is because almost all the codes of the game are expired. The game developers didn't put any updates about the upcoming or fresh codes. But you don't need to worry about it; you can get the latest updates about the game and the secret codes on the Twitter handle of @GabStudioRBLX.