Everyone likes copying and pasting, perhaps except school teachers. But we aren't trying to copy an assignment here or a unique article. What we're trying to copy here is text on Roblox and the ability to copy text on Roblox is a sure-fire way to improve your experience with the game.
Being able to Copy text on Roblox is a very important skill and can help you vastly improve your overall experience. This is because it helps you incorporate text that you or someone else typed and either reuse it strategically by pasting it in the right setting.
The copy and paste function is also an important tool for copying shared promo codes, music IDs, or simply a message you wish to spam a friend with (spamming is wrong!). All these features make copying a very important skill to players and one that can heavily affect a user's enjoyment.
However, copying and pasting on Roblox is not as easy as it is on other platforms. The game makes it harder to copy and paste compared to other user interfaces. This means you will need a few pointers before you gain the magical ability to copy and paste on Roblox.
However, it is important to note that the copy and paste function is not available to all Roblox users. The copy text function is only available to those playing the game on a mobile device (iOS or Android) or PC/Mac. Users on Xbox will sadly have to miss out on this feature of the game.
So without further ado, here is a handy guide to copying and pasting on Roblox:
For PC/Mac
You need to be comfortable using the copy and paste commands on your keyboard. These are the same copy and paste commands that you use on other programs on your PC.
Use your mouse to click and drag across the text you wish to copy. This will highlight the text.
Without clicking anything else, input the copy command on your keyboard.
For windows users, the copy command is the Control button and the letter C or "Ctrl"+ "C".
For Mac users, the copy command is different, with the Control button "Ctrl" swapped out for the command key "Cmd"; that means the copy command for Mac is "Cmd"+"C".
And just like that, you have copied your desired text on Roblox. However, that's not the full deal and you will have to paste the copied text for it to be of any use.
To do this, press the paste command on your PC/Mac to paste the selected text where you wish.
For PC users the paste command is as simple as pressing the control button "Ctrl" and the letter "V", which makes the PC command Ctrl+ V.
However, for Mac users the paste command is similar, being Command "Cmd" and the letter "V" to make the PC command "Cmd" + "V"
For mobile devices
For Roblox users on a Mobile device, copying and pasting is an even simpler process.
Simply press and hold down on the text you want to copy (or double-tap fast on a word) and it should be highlighted.
Next, you simply have to drag the highlighted region to the left or right to extend the box in either direction.
After this, you simply tap copy after your desired text has been highlighted.
To paste your copied text on a mobile device, simply press and hold down on your desired location and press paste.
Roblox is available on both iOS and Android devices and the steps to copy and paste are the same on both devices.
When to Copy and Paste on Roblox?
Now that you know how to copy and paste on the Roblox platform, we'll go through exactly where and when you can use this new skill.
Some of the uses of your newfound ability to copy and paste on Roblox include:
Redeeming Codes on Roblox
You can use your newfound ability to copy and paste to redeem codes in-game. These codes give players items like weapon skins, power boosts, characters, and pets on Roblox.
You can use the redeem codes added by creators to receive the benefits stated above or redeem secret promo codes which award you with rare avatar items.
So how do you go about redeeming codes with your new copy and paste abilities on Roblox? Say you happen upon a list of codes and rightly want to redeem them, you have to move quickly. Some will expire within the next hour and you would rather not write them down individually.
Well then, all you have to do to successfully get hold of all the codes is to use the steps we have gone through in this article. Select them and paste them directly into the appropriate destination.
Using this method will help you redeem codes on time and prevent typing the wrong code. This makes the experience more enjoyable and effective.
Redeeming Music ID Codes
Roblox possesses a Boombox feature to allow users to enjoy music from their favorite artists while playing the game. All you need to do is find the music code for the song of your choice and put it into the redeem section for radio.
Music ID codes are 10 digits long and are therefore pretty easy to get wrong. However, using the copy and paste feature you can simply copy the code you desire to prevent mistakes and enjoy your favorite songs in the game.
Messaging Friends on Roblox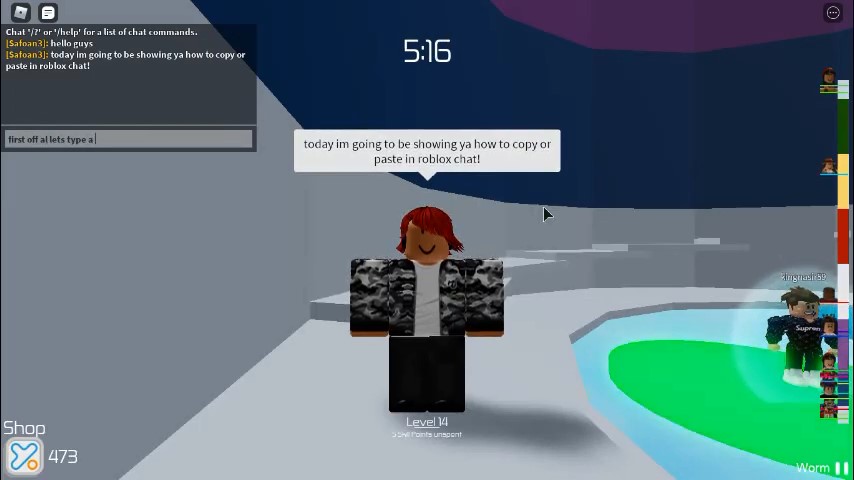 Finally, you can use the copy and paste feature in messages with your friends on Roblox for a variety of purposes. You can copy and share links to videos that can be helpful, spam their inbox (please don't), or share links in the middle of a game.
The world is your oyster.
Conclusion
With that, we hope you have learned all you need as it concerns copying and pasting on Roblox and using this ability to make the most of your gaming experiences.