While playing Roblox, you may want to listen to relaxing, ambient music at times, or you may simply want to party and play loud music or noises to have a good time. Because they reflect current meme trends and the most popular music, Roblox loud music ID codes are a terrific way to add some spice to your regular game. However, you may not always have quick access to these codes in-game, forcing you to search the internet.
This is where we can help! This post will explain how to use some of the most common Roblox loud music ID codes in your game. These are community-sourced, which means they're usually short sound files that play a single, loud sound that's exceedingly loud and, in some cases, rather amusing.
We hope that this post helps you select some great loud music codes to enjoy.
What Are Roblox Music ID Codes
These codes are essentially the same as regular music codes, with the exception that they're in a different style and have a much higher volume. To avoid accidentally impairing someone's hearing, you should play these while you're alone or when everyone else is playing the same style of music.
Loud Roblox Song ID Codes
Jack U x Ekali x Gravez – Mind Karol Tip Edit: 643341873
COSMIC – Beat Slayer: 643297811
Thomas The Train Remix Trap: 642935512
How To Save A Life (Bass Boosted): 727844285
Dubstep Remix: 130762736
Yeah Yeah Yeahs – Heads Will Roll (JVH-C remix): 290176752
ILLUMINATI CONFIRMED – MLG Sound Effects (HD): 485725775
Jojo's Bizarre Adventure – Pillar Men Theme: 627848963
Dance Monkey: 4517047588
Kikuo – Love me, Love me, Love me: 535308988
Nightcore – Titanium: 398159550
Revenge (Minecraft Music): 3807239428
Mako – Beam (Proximity): 165065112
Eminem – I'm Not Afraid: 131149175
Sad Violin (Loud Version): 285334243
SpongeBob Theme (Loud Version): 318925857
Ear Exploder: 338005348
Screaming Man: 271550300
MLG – Killcam: 179497874
FUS RO DAH!!!: 130776150
Super Mario Remix: 203551205
Cringey Recorder Song: 454451340
YOU ARE A PIRATE!: 130774314
Ten Million Roblox Players: 968019590
How To Use The Song ID Codes
Now that you have learned about different codes that you can use to play loud music, it is time to also know how to apply these codes in the game.
First and foremost, you'll need to buy a boombox from the catalog. Boomboxes range in price from 100 to 1,000 Robux, although the variations are mostly cosmetic.
Some games enable you to play with a Boombox even if you don't possess one. You may also play Catalog Heaven to test the loud music codes and try out all of the boomboxes for free before purchasing one. Catalog Heaven is a sandbox-style experience for Roblox's catalog.
Down below is a step by step guide on how you can enter and play the song of your choice:
Launch the game of your choice that supports Roblox Radio or Boombox
Open the boombox menu and you will be greeted with a similar screen as shown below
Copy and enter the code of your choice into the box
Hit play and enjoy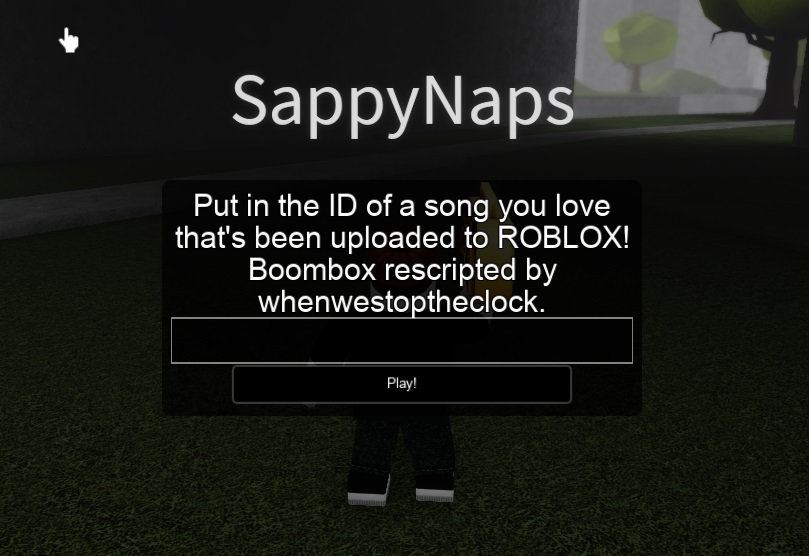 A loud Roblox ID is the identifier for an audio file with loud noises. These audio files have gone widespread in Roblox and may be utilized in a variety of Roblox games. Many of these files have incredibly loud music and sound, but others of them are actually quite good and contain loud copies of legitimate songs. They're an excellent technique to irritate your buddies.
When you play a game as large as Roblox, you're going to make a group of pals with whom you may spend your time. If you click, you'll discover that you all have something in common when it comes to the music you love to listen to, whether it's calm, ambient music, or Thomas the Tank Engine blasting at full power. To everyone his or her own.
We hope that this post has assisted you in discovering fresh memes and loud song codes to use in your game.